Our deluxe webcasting platform offers your viewer the complete interactive experience.
Hosted on Canadian based secure servers your participants will be able to watch live video and Power point presentations synchronized to you presenters presentation. Either window can be maximized to full screen and the live video window can be set to a resolution best suited for your viewers internet capability From 720HD to 320SD and even just audio.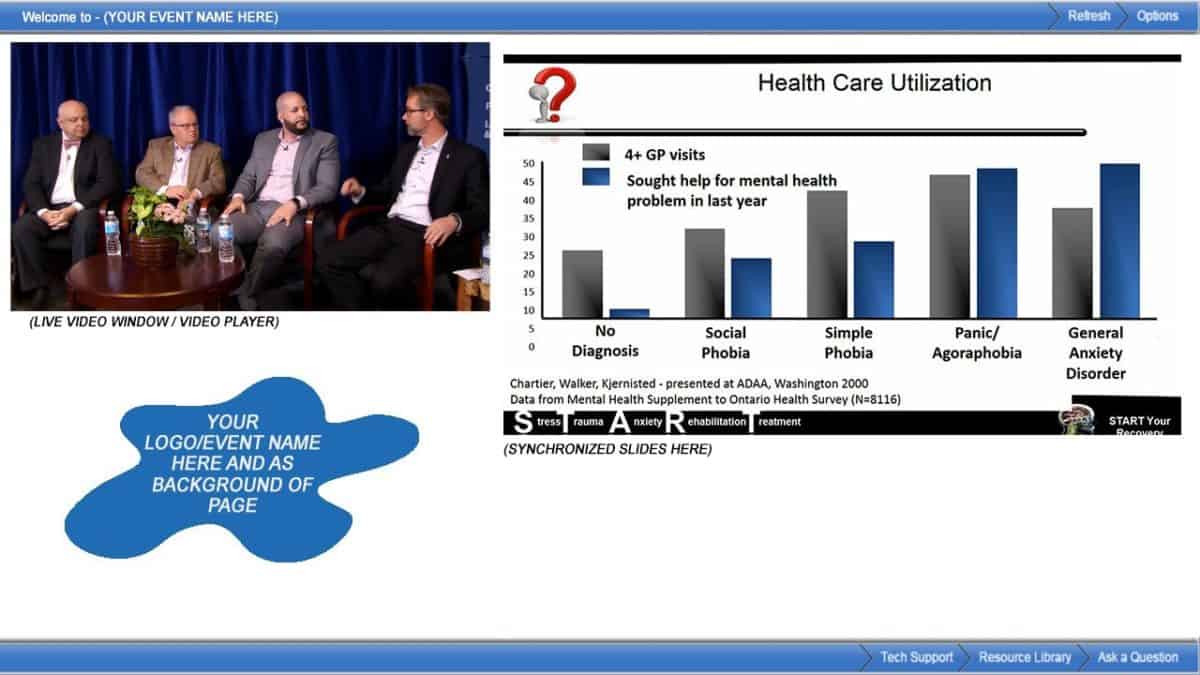 Additional features available on our interface include:
Branded Viewing Pages – we customize the viewing page to match your event or company logo, colour scheme etc.
Live Q&A – viewers can submit questions which are moderated by you. You can choose to show the audience the questions but usually they are just viewed by the webcast administrators. You can then select questions to be answered by your presenter.
Live Audience Polling – presenters can propose a poll question to the viewers who can submit their vote. The presenter can then see a live result of the audience's votes.
Content Tabs – make available for download the Power Point presentation, speaker Bio's or other relevant documents for the presentation.
Real-Time technical Support Chat – should a view have technical difficulties a tech will be available via a chat window for the viewer to consult with.
Exit Polls – have your viewers fill out a questionnaire at the end of the webcast to gather feedback. Twitter Integration – Associate Twitter hash tags to your event.
Additional Options Available for Purchase
Multi-Language Support
Teleconference Integration Live
Captioning
Extended Archiving (30 day archiving is included)
Registration and Reports
Use our registration page customized to your event for viewers to Pre-register for the webcast.
The page includes links for viewers to test their system and sort out any technical issues they may have well in advance of the event date.
Auto-responders and reminders will be sent to viewers. You select the information you would like to collect from the viewer upon registration. ie Name, email and company
Should you choose to handle registration yourself we will need a list of the registered viewers in an excel file listing their name, email address and any other information you collected. This information must be provided to use within 48 hours of the webcast start time
Viewer Reports
During the live event and upon completion of the event you can see who is attending. At the end of the event a report will be provided listing who attended and associated with all of the information provided at registration. This can be useful for instance to quickly see how many people from a specific company watched.
On Location Production
We will provide all the necessary technical equipment to produce your webcast. Utilizing High Definition cameras and the latest in encoding software and hardware we take care of all the details to deliver a professional product to your audience.
We can provide back drop materials like Drape, proper lighting, comfort monitors for presenters and more.
We scale the production to meet your needs and budget.
Typical One Camera Production: (Suitable for a single presenter)
One HD professional camera
One Lav Mic
Three point Lighting Background light
Encoding computer and software
Production Computer
One Technician
Typical Two Camera Production: (Suitable for two or more presenters or panel discussion)
Two HD professional cameras
Appropriate number of microphones
Audio Mixer
Adequate Lighting
Backdrop drape if required
HD Video Recorder
HD Video Switcher
Comfort Monitor
Encoding computer
Production Computer
Two Technicians
Additional Production equipment available
We can provide additional production equipment if desired. These are items that will be billed as additional items to the standard package.
Popular Extras:
Additional Cameras
Additional production computers
Name key (Lower Thirds) elements
Video Playback computer
In Ear monitor for presenter
Teleprompter
Onsite live captionist
Speakers and monitors for onsite audience
Set furniture and pieces
Phone conferencing interface
Speaker Timers